8-10, November, 2023 Shanghai New International Expo Centre (SNIEC)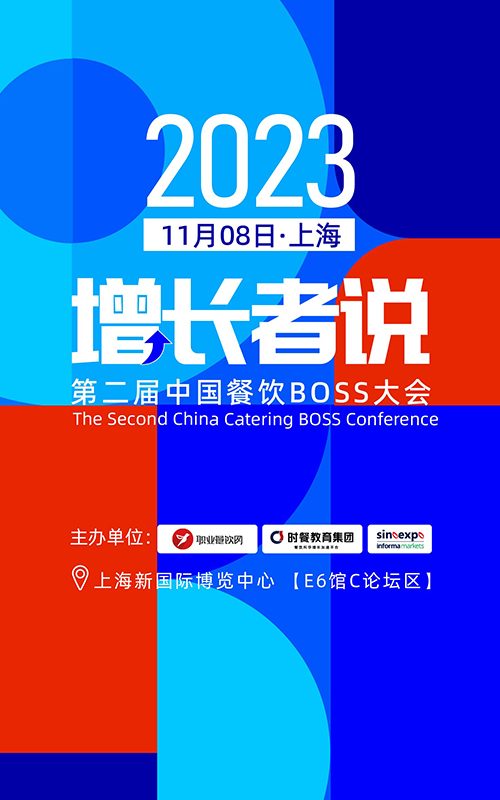 The 2rd China Catering BOSS Conference
E6H50-D
The second China Catering BOSS Conference, with the theme of "The Growers", invited more than 20 catering giants such as Xibei, Nanchengxiang, Ziguangyuan, Chen Xianggui, Lan Xiangzi, Xijiezhachuan, and Nowwa Coffee to conduct in-depth discussions and sharing on the three major sectors of chain catering, high-end catering, and local catering. They will work together with catering professionals to learn the path of growth, seize opportunities to meet challenges, and accelerate the promotion of the catering industry from all directions and perspectives Full chain transformation. In addition, the organizers also set up a Michelin Star Chef Dinner and a Top 10 Award Ceremony to learn from the growers together!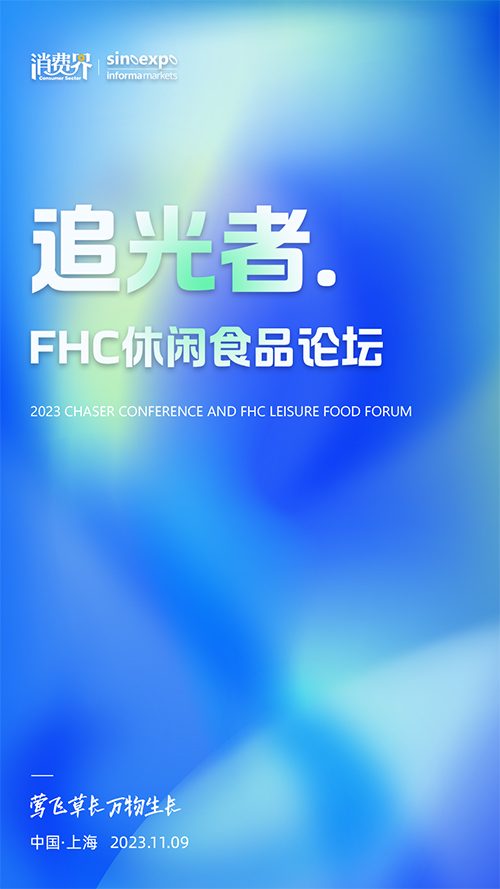 2023 Chaser Conference and FHC Leisure Food Forum
E6H50-D
The potential of China brands is becoming increasingly powerful, whether it is in the domestic market and international giants' confrontation or continuous exploration in the international market. Whether it's competition on the brand side, marketing side, or channel side, we all feel the strong power of Chinese brands. Focusing on the food and beverage industry, in the medium to long term, the environment for entrepreneurial investment will become better and better. However, this requires some conditions, including market maturity, retail environment maturity, consumption upgrading, technology and innovation development at the macro level, and the quantity and quality of startup companies, diversification of exit channels, and formation of a professional manager ecosystem at the micro level.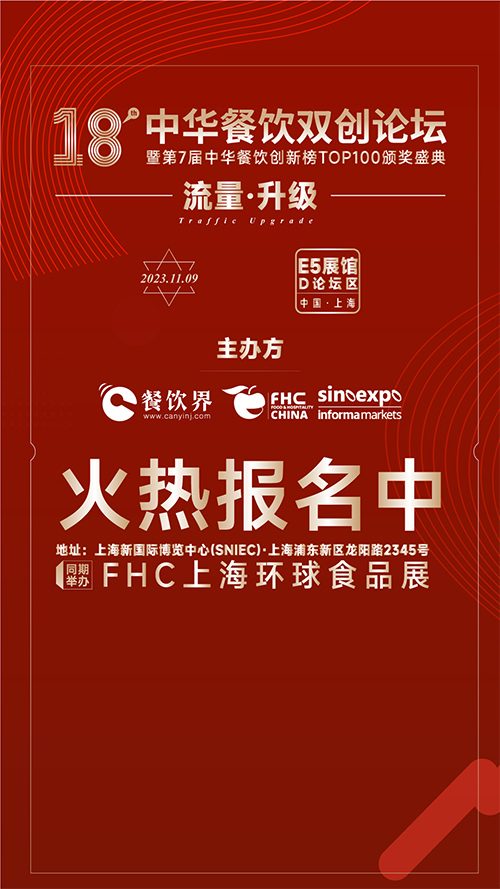 The 18th China Catering Innovation and Entrepreneurship Forum
N3H40-B
The catering industry is facing serious challenges, and to stand out in the industry, understanding traffic operation and brand marketing has become an essential skill. Learn to adapt to the new media ecosystem, and through reasonable marketing strategies and creativity, explore and attract popular products, in order to break through bottlenecks and attract customers in the market.
How to create a popular online restaurant? How to achieve a transition from internet celebrity to permanent celebrity? How to leverage short videos to achieve dual detonation of C-end and B-end?
On November 9, 2023, "The Catering Industry" new media will collaborate with Shanghai Sinoexpo Informa Markets International Exhibition Co.,Ltd. to hold the 18th "Traffic Upgrade" Chinese Catering Innovation and Entrepreneurship Forum at the Shanghai New International Expo Center. The conference will invite more than 15 founders of phenomenal catering brands to share the practical benefits of traffic and new media marketing.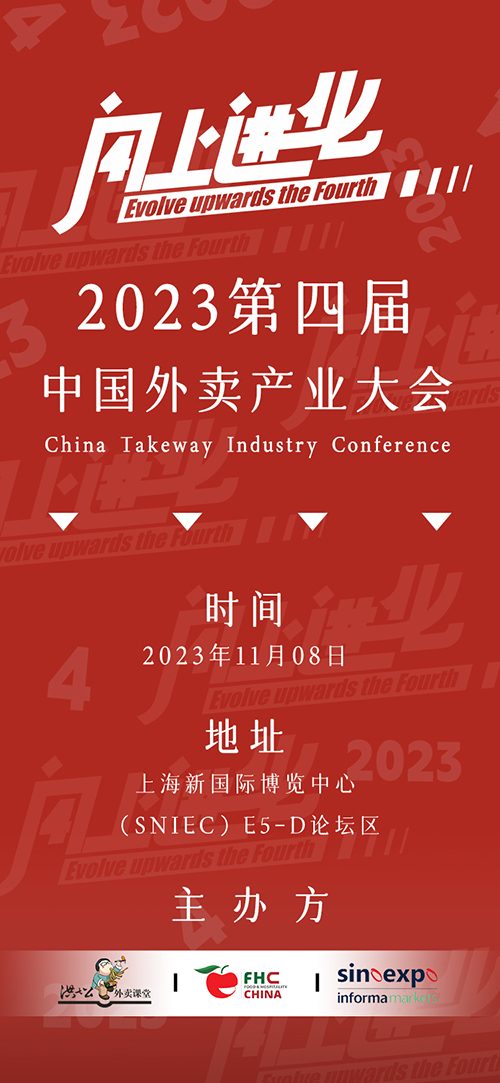 The 4th China Takeaway Industry Conference
N3H40-B
The 4th China Takeaway Industry Conference was held in Shanghai on November 8th. The conference was jointly organized by Hongqi Group and Shanghai Sinoexpo Informa Markets International Exhibition Co., Ltd., and was co organized by Xinyaxuan Group, Huading Supply Chain, Jiusui Packaging Materials, and Zhengxin Forest Plan Industry Fund. It focuses on exploring the development trends and cooperation opportunities of the delivery industry. The conference invites top food and beverage owners and industry partners from across the country to participate in a joint discussion on the future of the delivery industry, helping food and beverage owners increase order size and accumulate customer group assets. The thousand people forum + 200,000 visitors from catering industry + food delivery Industry awards ceremony, luxurious content that cannot be missed!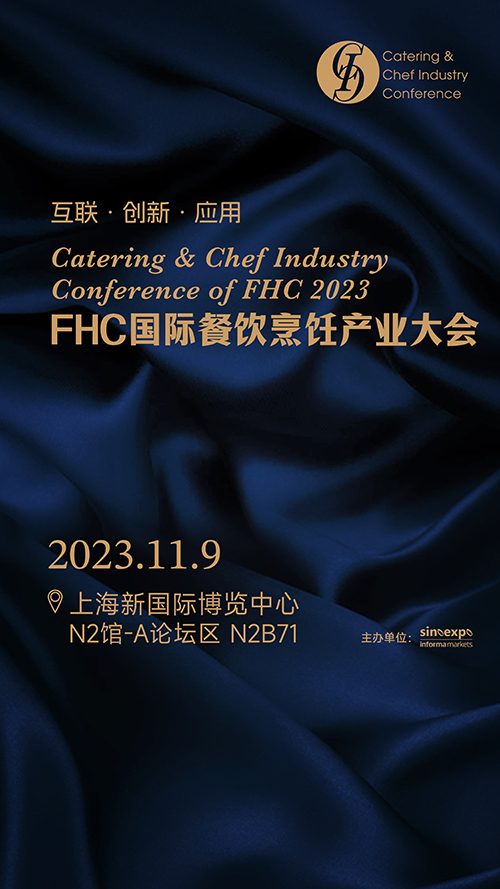 Catering & Chef Industry Conference of FHC 2023
N2B71-A
The conference, with the theme of "Interconnection, Innovation, and Application", is aimed at professionals in industries such as catering, restaurants, and chefs. From tracing to application, it aims to connect a series of links such as high-quality ingredient cultivation, selection, procurement, and cooking. This conference combines the resources of catering, chefs, and ingredients, focusing on innovative topics such as dairy products, meat products, seafood, famous chefs, and restaurant operations for the catering industry, and collides with more sparks.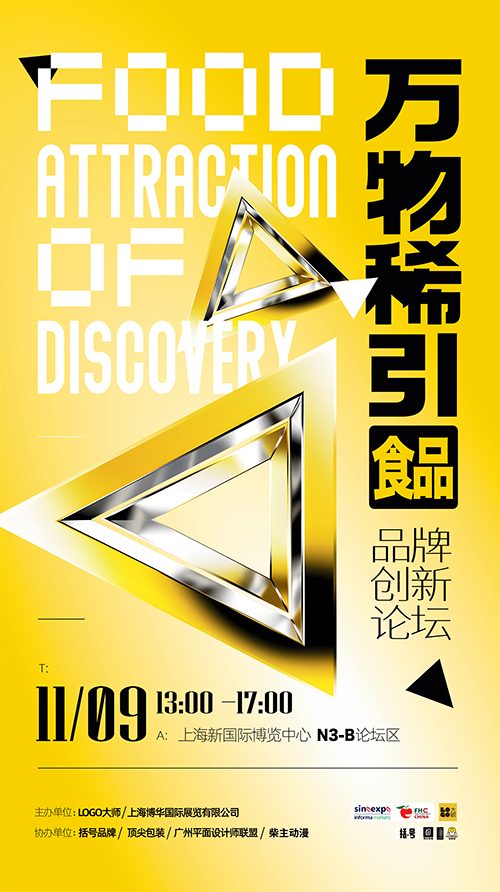 Food Attraction of Discovery
N4G90-C
In the food and beverage industry, whether it is well-known old brands or new brands that have sprung up like mushrooms, the Chinese food industry has been unleashing strong innovation in recent years. Domestic brands are increasingly reflecting the cultural confidence of the new generation of Chinese people. New consumers, new groups, new demands, new channels, beauty in the market, preemption of users' minds, building consumers' "visual cognition", and innovative design can reshape brand strength. How can design effectively convey the characteristics and personality of a product? And how can marketing oriented packaging stand out from the dazzling array of products?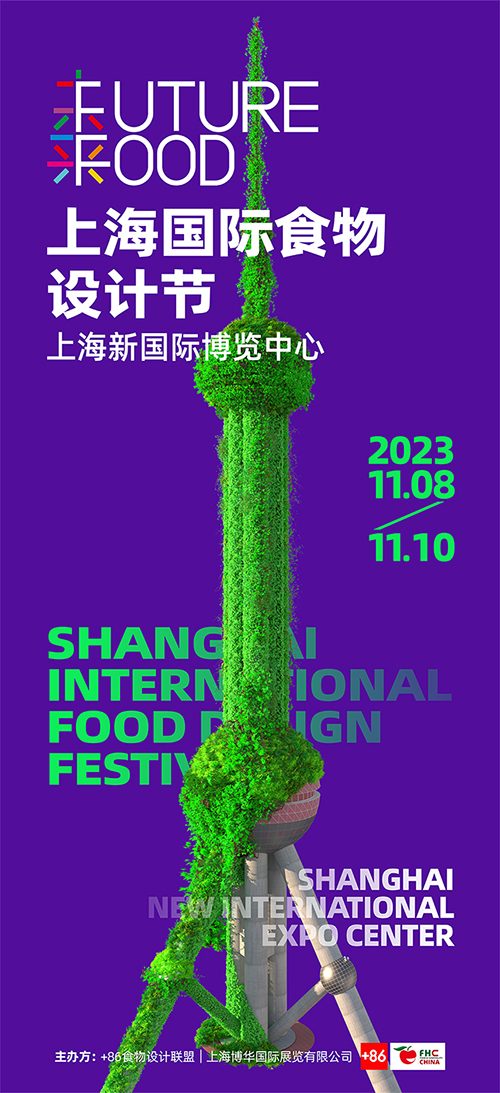 Sustainable Food Design | Shanghai International FoodDesign Conference
N4G90-C
The main theme of this year's conference is sustainable food design, aiming to guide the public's attention to the green, symbiotic, and naturally improving future food cycle ecology in the food industry, and stimulate diverse thinking and reshape the concept of future sustainability. As a multi-dimensional international food design platform that leads, innovates, engages in dialogue, and inspires inspiration, we look forward to sharing forward-looking perspectives and world knowledge on the sustainable food design ecosystem with all industry professionals and friends who are passionate about food design. We aim to build a new perspective, stimulate innovative energy, explore future trends, and help shape a sustainable and natural food society in a more meaningful way!
2023 The Fourth New Catering Industry Conference
E5E70-E
Prefabricated dishes, as a rapidly developing industry, are injecting new vitality into China's catering industry. However, due to the fact that the industry is still in its infancy, there are still significant shortcomings in brand building, product development, processing technology, and business philosophy. In order to deeply explore the trends and pain points of the development of the prefabricated vegetable industry, and promote the sustainable development of the prefabricated vegetable industry and new catering, the China New Catering Industry Alliance Shanghai Bohua will jointly host the "Second China International Prefabricated Dish · Shanghai Summit and Fourth New Catering Industry Conference", inviting pre made vegetable brands, founders of new catering brands, and industry experts to gather together to share experiences, deeply explore and propose solutions.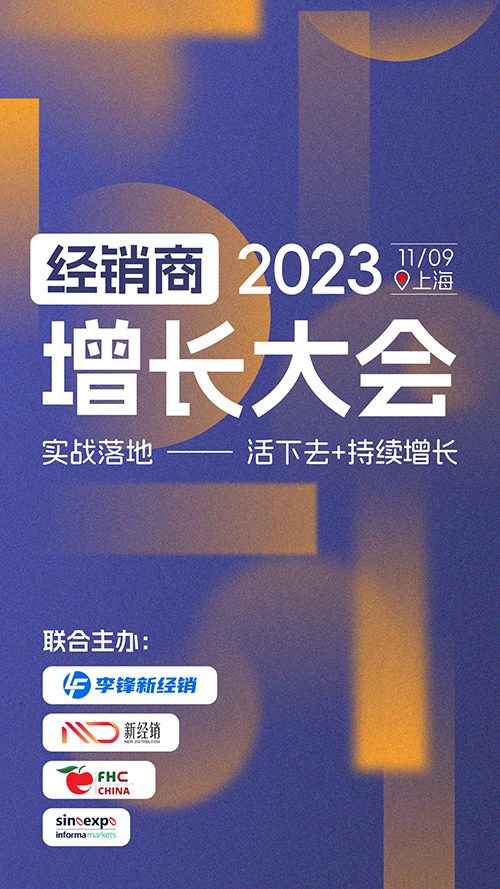 2023 Dealer Conference – Restarting Growth
N2M42
As the authoritative Chinese food distributor conference in the industry, this is not only a grand gathering of ideas, knowledge, cases, and methods, but also a grand event to lead the future development of distributor business!
2023 Dealer Conference – Restarting Growth, with the theme of 'Landing and Growth', collaborated with dozens of excellent dealer practitioners from all over the country, combined with business scenarios, to share business growth cases of landing able dealers. These excellent dealers are local giants with annual sales of hundreds of millions or billions, and they have summarized a set of successful and replicable methodologies and business theories, If you are a distributor of fast-moving consumer goods or a practitioner, manager, or operator involved in dealer management, this is definitely a must-have dealer conference!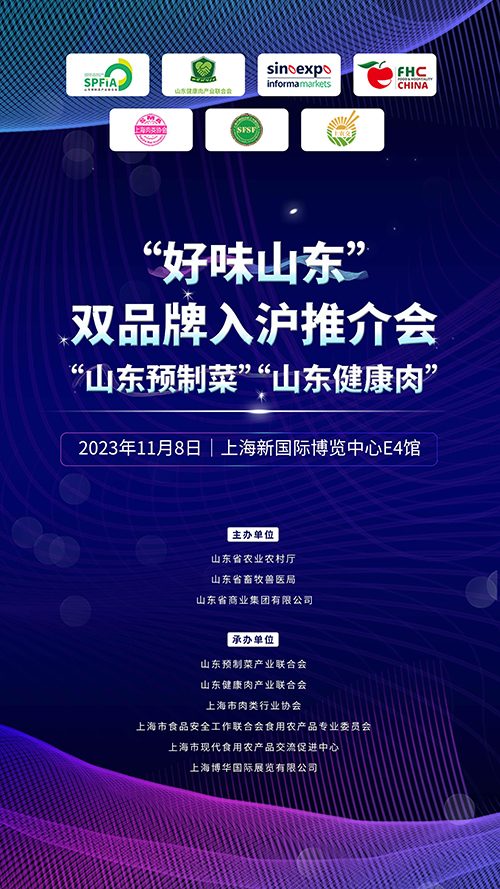 Promotion Conference for the Double Brand "Haowei Shandong" Entering Shanghai ――Shandong Healthy Meat and Shandong Prefabricated Dishes
E5E70-E
In order to better showcase the development level and advantages of Shandong's prefabricated vegetable industry, promote communication and cooperation between high-quality prefabricated vegetable and agricultural and sideline product enterprises in Shandong and their domestic and foreign counterparts, connect the supply chain, and promote the integrated development of industrial clusters, jointly hosted by Shandong Provincial Department of Agriculture and Rural Affairs, Shandong Provincial Bureau of Animal Husbandry and Veterinary Medicine, and Shandong Commercial Group Co., Ltd., Shandong Prefabricated Vegetable Industry Federation The "Good Taste Shandong" dual brand promotion event jointly organized by the Shandong Health Meat Industry Federation is scheduled to be held on November 8, 2023 at the Shanghai New International Expo Center.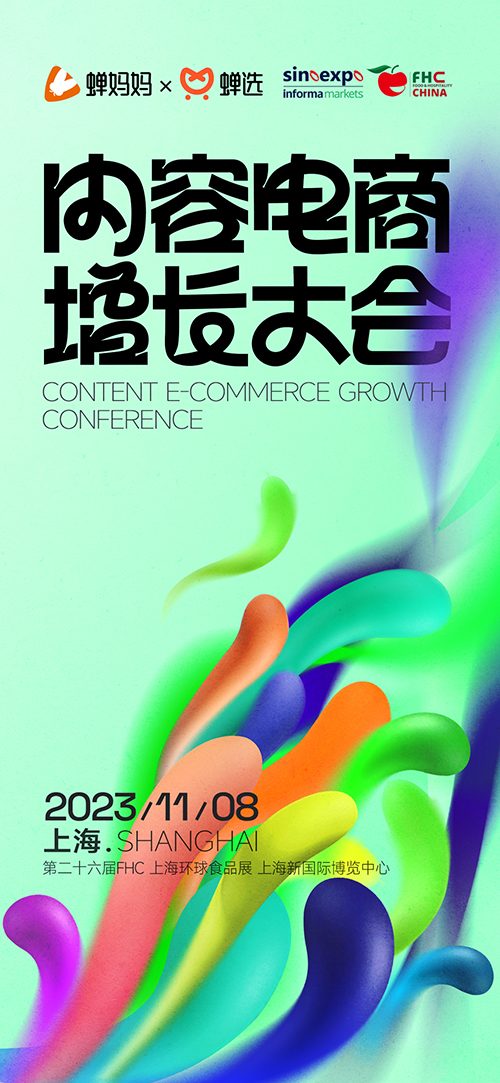 Content E-commerce Growth Conference
N2M42
On November 8th, the Content E-Commerce Growth Conference Shanghai is about to invite digital industry experts to focus on the industry ecology, help brands improve efficiency and break the trend, empower brands to accurately connect and transform efficiently, and help more outstanding brand merchants embrace changes and break the trend of growth. Master Chan is committed to big data and AI intelligent empowerment in the field of marketing, helping brands achieve digital management of content marketing and e-commerce in the era of content e-commerce, driving new brand growth. Its products include: Cicada Mama, Cicada Magic Cube, Cicada Housekeeper, Cicada Circle, Cicada Xiaohong, and other products, providing multiple services such as Cicada Selection and Cicada Mama Think Tank. As of now, we have provided high-quality services to over 1 million well-known companies and small and medium-sized enterprises.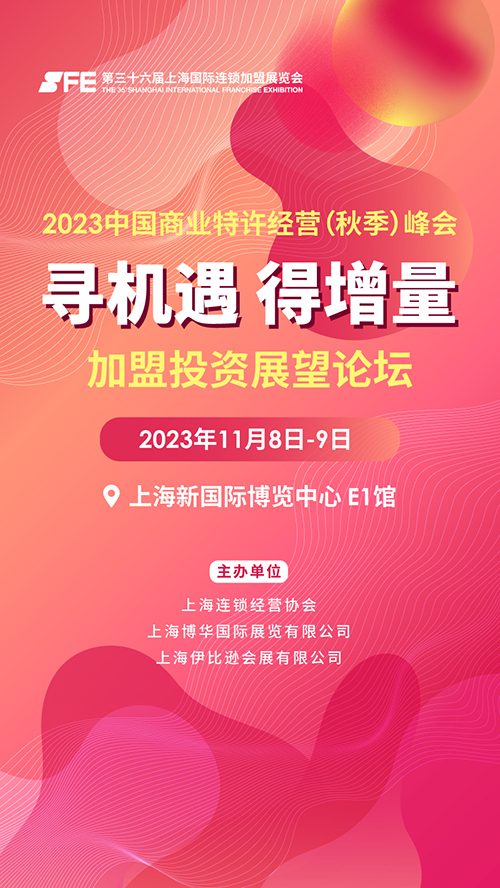 Shanghai International Franchise EXPO
E1E09-F
The "2023 China Business Franchise (Autumn) Summit: Seeking Opportunities, Gaining Increments – Franchise Investment Outlook Forum", co hosted by Shanghai Chain Enterprises Association, Shanghai Sinoexpo Informa Markets International Exhibition Co., Ltd., and Shanghai Exhibition Conference Co., Ltd., will gather authoritative associations and industry heavyweight guests in a comprehensive, diversified, and international pattern and perspective, A peak event to jointly share and explore the innovative development path of chain brands, leading the future of the chain industry with the collision of wisdom from all parties. Let's join hands with industry benchmarks and seek common development!